Home
>
All Snacks
>
Spice Kit Organic Ground Cayenne Pepper Powder (Strong)
Spice Kit Organic Ground Cayenne Pepper Powder (Strong) (130g)
Organic Ground Cayenne Pepper Powder (Strong)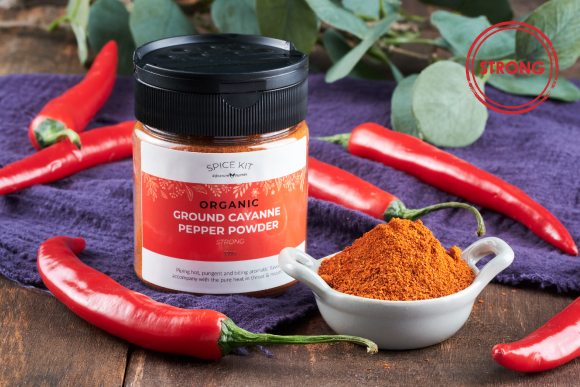 Organic Spices
About this product
Origin of Country: India
Get your spice game on with our new Spice Kit Organic Ground Cayenne Pepper Powder
(Strong)
!
Solely fine ground from the seeds & pods of organic cayenne pepper, this spice is noted for its piping hot, pungent and biting aromatic flavor to compliment your dishes, giving it the OMMPH it deserves!
✓ No MSG
✓ Salt Free
✓ Non Irradiated
✓ No Preservative
Benefits
Capsaicin is the active ingredient in cayenne pepper that gives the hot aftertaste. The higher the content of capsaicin in cayenne peppers, the hotter/spicier it gets.
Capsaicin not only contributes to the spiciness level of cayenne peppers but it also has medicinal properties that bring health benefits:
1.
Boosts Metabolism
- increases energy consumption & burns more calories.
2.
Improves Digestion
- increases digestive fluid production to aid with digestion & fight against stomach infections.
3.
Improves Cardiovascular System
- improves blood circulation, reduces thrombosis, & warms body temperature.
Ways to Consume
1. Season during cooking;
2. Table seasoning;
3. Marinating;
& Many other ways waiting for you to explore!
Ingredients
100% Organic Cayenne Pepper Powder.
Storage
Store in cool dry place at room temperature. Away from direct sunlight or excessive heat.