Surface Wipe (150 + 30ml)
Surface Wipe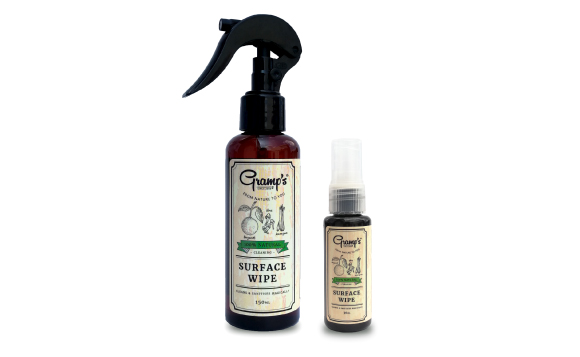 100% Natural
About this product
Can an all-natural surface cleaner effectively kill germs and bacteria? The Gramp's Asia Surface Wipe was sent to an accredited 3rd party laboratory for verification and the results are astounding. This product can kill 99.9999% of germs and bacteria. Most synthetic products available in the marketplace can only claim 99.9%. That is the power of herbalism-based 100% natural household products.
Apart from disinfecting, this special formula functions like a dirt and oil magnet. Oily and sticky surfaces are cleaned easily and instantaneously. Use Gramp's Asia Surface Wipe to sanitize any solid surfaces, from furniture to mobile phones, door knobs and light switches. It will especially be your best friend during the Hand Foot Mouth Disease (HMFD) season. It cleans and disinfects effectively. Now that is remarkable.
Country of Origin: Malaysia
Health Benefits
1. 100% natural and non-toxic, safe to be used around babies, pets and food.
2. Does not leave toxic residue.
3. Kills 99.9999% of germs and bacteria.
Usage Directions
Spray directly onto targeted area and simply wipe with a cloth. No water needed. Suitable for use on any kind of solid furniture, table-tops, greasy kitchen areas, mobile phone surfaces and laptops (avoid electrical inputs), eating areas with flies, etc.
Cautions
Avoid contact with eyes. Safe if accidentally ingested in small quantities but not formulated for human consumption. Always shake product before use.
Ingredient
Water, bergamot, clove, lemongrass, herbaceous plants, palm kernel stearin, glycerin, citric acid, lemon citrus, sugar apple leaves, soya, vetiver, patawali, cili padi, garlic, corn starch and other natural extracts.
Allergy Information
-None-
Storage Instructions
Store in a cool, dry place. Keep away from heat and direct sunlight.